Project Description
TIME2ACT@SD aims to act at the learning environments supporting teachers and students of HE in the development of knowledge, skills and attitudes in the field of SD and SDG. Attention should be given to sustainability in all Higher Education Institutions (HEIs) regardless of the students' training area and curricula.
TIME2ACT@SD seeks to produce a set of open educational resources and promote a set of initiatives to address the lack of knowledge and skills and change attitudes and actions towards SD among young people attending HE. Through innovative practices of training and education (MOOC and gamification strategies) and through active methodologies (workshops and bootcamps, as activities of experimental nature), the project aims to promote literacy in the target group in the field of SD/SDG, as well as behavioural changes regarding individual preferences, awareness of SD, consumption habits and lifestyles. The project outcomes will be developed to increase the 3 levels of acquisition of sustainability competencies:
knowledge (conceptual learning),
know-how (practical skills)
and do (linked to the demonstration in action and its transferability to real-life situations).
Objectives
To achieve this overall objective, a set of specific objectives have been defined:
To identify knowledge and skills' gaps under the topic of SD/ and SDG, embracing both HE students and teachers, to provide inputs for the development of innovative resources for the HE teaching-learning process.
To develop innovative tools and interactive content, based on the use of gamification concepts, for formal and non-formal education of HE students, in the field of SD and /SDG, through a transdisciplinary and student-centered approach, that can be used by HE teachers, in all curricula, for HE students at all levels.
To develop innovative methodologies, based on the use of the gamification that will integrate skills and knowledge about SD and SDG, to empower HE teachers and encourage HE students learning by doing.
To promote the organisational enhancement of 7 institutions and strengthen the cooperation partnership between them through the development, dissemination, and exploitation of innovative tools and methodologies created in the field SD/SDG for HE.
Implementation
Time2act@SD will be implemented through five work packages (WP):
WP1 – Project Management;
WP2 – Transnational studies with HE students and teachers;
WP3 – Development of interactive content and digital/innovative tools;
WP4 – SD/SDG training Workshops and Bootcamps;
WP5 – Strengthening the cooperation partnership & dissemination and exploitation of the project's results.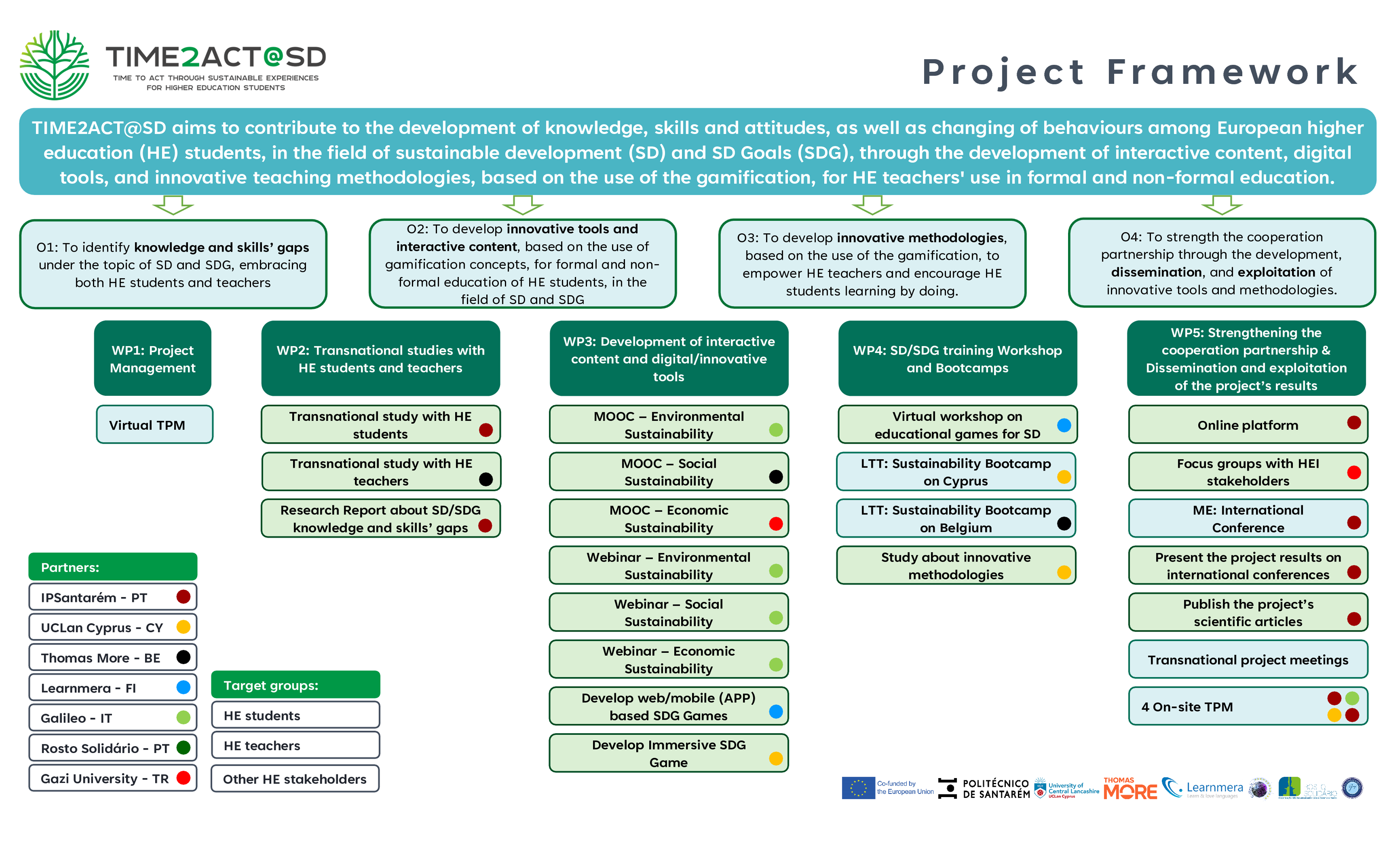 Expected Outcomes
The achievement of each objective defined, produces a set of expected results:
2 scientific paper about SD knowledge and skills' gaps for HE students and teachers;
Research Report about SD knowledge and skills' gaps;
MOOCs related with environmental, social and economic sustainability;
Webinars related with environmental, social and economic sustainability;
Web/mobile-based (APP) games;
Immersive game;
Virtual workshop for HE teachers;
Bootcamps for HE teachers and students;
Scientific paper about innovative methodologies;
Online platform;
Record of stakeholders' meeting conclusions;
International conference;
Oral communications at international conferences;
Transnational project meetings.